Oh the things we do for fashion… sucking it in those tight-fitting corset and always adjusting uncomfy tube tops. But the one thing that's a definite no-no is torturing our feet while walking in heels. Let's be honest, high heels are a girl's second-biggest weakness (the first being diamonds, of course). And no matter how hard we try, we cannot do without this essential in our shoe closets. It's almost like one can't live with 'em and can't live without 'em. But there's got to be a way to sort this out, right? And that's why we at WODROB have just the four hacks to keep you going strong in heels. No calluses, no bruises, and fewer band-aids, trust us!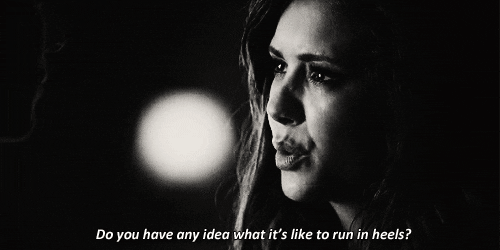 As it turns out, a great pair of heels and pain-free feet can, in fact, can exist together. Other than buying the right size, choosing block heels and placing silicon insoles, we've got some easy tricks that will help you. Here are 4 tips for making the glory of wearing heels less painful.
---
Try A Pair With More Coverage
---
While we're sure you are aware of the god-sent block heel, there actually is another type of heels that you MUST be thankful for. Choose heels that have a lot of top coverage. The more coverage you have on top, the better. You'll be surprised how comfortable a pair of boots are when you have to wear it the whole day. If boots get too warm (especially here), choose a pair with an ankle-strap that has high coverage on the top, and you can thank us later!
---
Break Into Them
---
Breaking into your pair of shoes is of utmost importance. Before you decide to take those shoes out for a spin, make sure you wear them several times at home. Strut away in pain indoors before you subject yourself to the agony when dancing or out on a date. Wear socks to help widen them if need be or use the overnight water-to-ice expansion trick. If you've got a cobbler nearby, make him your BFF and see if he can make a few personalised adjustments to your shoe just so they loosen up.
---
Tape Your Toes
---
Before you rule this out completely, hear us out. No, we're not causing you anymore pain. We are in fact trying to reduce it. This one's epic: tape your third and fourth toe together (starting from your big toe). Why? The nerves near your toes contribute to most of the pain and taping them helps reduce it considerably. This will also help take the pressure off the ball of the foot.
WM Tip: This might not work for high-heeled sandals or peep-toes.
---
Use A Deodorant To Prevent Chafing
---
Running out of band-aid to cover your wound? Say bye bye to those painful blisters by spraying a little deodorant on it. Use deodorant that doesn't cause a stain or a roll-on on any surface inside the shoe (especially the straps) to prevent skin chafing. This will help it (the skin) to gently glide instead of rubbing it against the shoe. The deodorant prevents from causing friction.
---
 Walk Right
---
When we say 'walk right', what we actually mean is walk differently. Yes, you heard us right. Walking in heels isn't the same as walking in sneakers, but you already knew that, duh! Your posture matters here. When you maintain the right posture, it helps minimise the impact on your feet as well as the pain on your joints and muscles. Make it habit to step using the outer border of the heel and toe. Use your hips to shift and lift your legs to the centre with each step you take. Your stride should look more like a light bounce than like you're saving yourself from a fall (even though you may be about to).